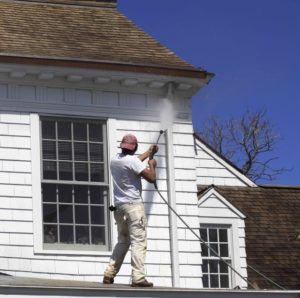 With summer right around the corner, you might be thinking about spending more time outside. However, it's important not to forget that your home will still be one of the places you spend the most time. To make sure it's the perfect place for the months to come, the preparation tips below are worth taking a look at.
1. Store Winter Belongings 
With dropping temperatures behind you, it's time to put away cold-weather gear that won't be necessary until the end of the year. While it can be tempting to leave coats, boots, and even sledding supplies out, storing these will help prevent them from becoming damaged. This is especially true with anything that will stay outdoors, as extreme heat and sun can take a toll on certain equipment.
2. Clean the Outside 
The outside of your house can get pretty dirty during the winter and spring, especially from snow, rain, and mud. To get rid of the reminders of colder times, the Renew Crew of Springfield recommends having your home washed. This actually blasts dirt and grime away from your home's siding, concrete patios, porches, decks, walkways, sidewalks, and more in just a short amount of time. This will help make your home look more vibrant and can even help reduce damage caused by mud and dirt sticking around for long periods of time.
3. Create a Dedicated Outdoor Space 
When you have the outside of your house cleaned, it will be easy to make a space where you can entertain or the kids can play. Even something as simple as a few chairs and a table can give you a spot to hang out when the weather outside is nice. If you really want to impress your kids, you may even want to consider buying a temporary pool to help keep them cool.
4. Check the A/C 
The air conditioner will become a necessity as the weather in the area gets hotter with each passing day. To avoid any problems when you need this unit the most, make sure it's properly running and have maintenance done, if necessary.
5. Seal Your Concrete 
If you notice any damage to your concrete from repeated use or extremely cold temperatures, it's recommended to have it professionally sealed. This can enhance the overall look of the concrete while helping to protect it from future damage.
Enjoying Your Summer 
With the tips above, you and your home will be ready for a fun summer ahead. From having a beautifully clean home exterior to enjoying a cool interior, the preparation will be well worth it. Once finished, all you'll have to worry about is how you'll fit in all your plans for the months ahead.